Are you traveling to Yokohama soon? Then check this article out as I share my YOKOHAMA JAPAN TRAVEL GUIDE BLOG with a sample itinerary, hotel and hostel recommendations, things to do, and other useful tips coming from my very own previous Yokohama travel experience!
A few years back, I was able to score a very, very cheap flight via Cebu Pacific's Anniversary Piso Sale from Manila to Narita where I only had to pay around Php2500 (USD50)! Japan is actually not on my priority travel list (because my current priority then is to finish my Southeast Asia travel goal), but since my brother was reassigned by his company to Yokohama, I thought of going there since I will have a place to stay and someone to tour me around.
But before anything else, here are other articles about Japan that I have written so far, for your reference.
Scoring the said cheap flight was not easy. It took me wasting time at my office desk refreshing BOTH my work laptop and smartphone the whole morning (well, that's how people score cheap flights, right?). I remember booking my flight around March but my flight time will be in December which is on time for my birthday (I can't believe I'll be flying to Japan on my birthday!).
Also, here is a simple vlog I made featuring scenes fom Tokyo and Yokohama, featuring my favorite Anime OST song, Sweet Soul Revue by Pizziccato Five:
I always proclaim that I am not a fan of big cities, but arriving at Tokyo and being reminded of the scenes from the movie Lost in Translation made me instantly fall in love with Tokyo. Arriving at Yokohama is another story, and I could say my Yokohama experience is more beautiful than Tokyo.
TELL ME MORE ABOUT YOKOHAMA, SHERLYN!
Yokohama is the capital of the Kanagawa Prefecture, which is less than an hour away from Tokyo. It is considered as the second largest city in Japan next to Tokyo, hence it can also get very busy here. Yokohama is a port city and has a very interesting history since it served as the gateway to foreign maritime trade in Japan. More recently, Yokohama caught the attention of the international community when the Diamond Princess Cruise Ship with hundreds of COVID-19 patients on board was docked at the Port of Yokohama to be quarantined.
Other Important Information About Yokohama
TIMEZONE: GMT+9 (Japan Standard Time) Japan is one hour ahead of the Philippines
LANGUAGE: Japanese (Nihonggo). While most signs around have English translations, most Japanese that I encountered do not speak English fluently, hence it is important to learn a few Japanese words (at least the greetings and basic questions) to communicate with them better.
CURRENCY: Japanese Yen
Useful Lonely Planet Travel Guides on Japanese Language
WHERE TO STAY IN YOKOHAMA?
Like I mentioned, I stayed at my brother's apartment when I traveled to Yokohama. But, don't feel bad! I did the research for you! 🙂 I asked around about the best recommendations in Yokohama (and I even checked their reviews in Agoda!). Based on my research, here are the best places to stay in Yokohama (I included both hotels and hostels):
TOP HOTELS IN YOKOHAMA
Or you can choose from other hotels that I have researched, here (click the name to check rates):
TOP HOSTELS IN YOKOHAMA
Or you can choose from other hostels that I have researched, here (click the name to check rates):
WI-FI ACCESS IN YOKOHAMA
To be honest, I want to save expenses on a trip by avoiding buying a local sim card or using my network's roaming services as much as possible. I was advised by my brother and some friends based in Japan that reliable wi-fi connection is practically available anywhere. I was able to survive my Yokohama trip without buying any local sim card.
But if you can't avoid not having a local sim card in Yokohama, you can check some upon arriving at the airport.
HOW TO GET TO YOKOHAMA
Manila to Narita Flights
There are no direct flights from Manila to Yokohama since Yokohama does not have its own airport. The best way to reach Yokohama is through Narita Airport. Four airlines directly fly from Manila to Narita: Philippine Airlines, Cebu Pacific, All Nippon Airways (ANA), and Jetstar.
Narita Airport to Shibuya by Train
If you are directly going to Ykohama from Narita, I advise you to have a short stroll around the Shibuya area (which I did during my trip). Shibuya area is directly accessible from Narita Airport.
Depending on your arrival terminal at Narita Airport, you have to make your way to either Terminal 1 or 2, since Terminal 3 does not have its own train line. In my case, since I arrived at Narita via Cebu Pacific, I am already in Terminal 2. I took the Narita Express going to Shibuya Station.
FARE: Y2990
TRAVEL TIME: 1 hour and 20 minutes
RESERVED SEATING: Yes
Shibuya to Yokohama by Train
In my case, I stayed at my brother's apartment in Yokohama which is at Center Kita Station. From Shibuya Station, this is how to go to Center Kita Station in Yokohama:
At Shibuya Station, take the Den-en-toshi Line Express towards Chuorinkan
Alight at Azamino Station
Walk for 100 meters towards the Blue Line.
At Azamino Station, take the Blue Line towards Shonandai.
Alight at Center Kita Station.
Yokohama to Narita Airport by Bus (and vice versa)
If you are going directly to Yokohama from Narita Airport, the best mode of transportation I can recommend you is through the Yokohama City Air Terminal (YCAT) Buses. YCAT is located at the First Floor of Yokohama Sky Building and the nearest train station to YCAT is the Yokohama Station (take the East Exit). You can either ride the Keikyu, Keisei, or Limousine Bus. Below are the links to the schedule of YCAT from YCAT Station to Narita Airport and vice versa:
GETTING AROUND YOKOHAMA USING YOUR PASMO CARD
Since Yokohama is a little simpler than Tokyo, it is easier to go around here. There are two major train lines in Yokohama, the Blue Line and the Green Line. They will be your best friends as you go around Yokohama.
For everyone's benefit, here is the simplest Yokohama train line map (specifically the municipal subway map) that I was able to research: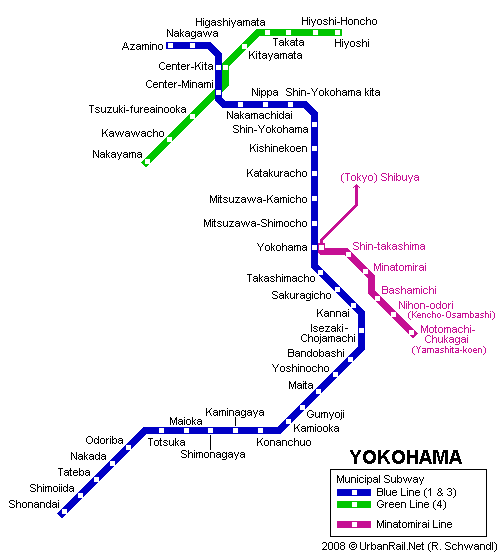 Since most of the time you will be going around Japan via trains, I recommend you to avail a Pasmo card. It is like a Beep Card (in the case of the Philippines) which you can just reload in case it runs out of balance. It is more convenient than buying every single ticket on every station you will go to. Also, you can use your Pasmo card to pay in convenience stores or in vending machines.
THINGS TO DO IN YOKOHAMA
Yokohama Cosmo World
Cup Noodles Museum
Yokohama Red Brick Warehouse
Sankeien Garden
Here are more places you can visit in Yokohama, Japan:
Yokohama Landmark Tower Sky Garden
Minato Mirai 21
Seabass
Yokohama Chinatown
Shin-Yokohama Ramen Museum
Yokohama Hakkeijima Sea Paradise
CLICK HERE FOR "10 INSTAGRAM SPOTS IN YOKOHAMA, JAPAN" ARTICLE
FIRST-HAND TIPS (AND STORIES)! FROM SHERLYN
Be quiet when inside a public transportation. Since I explored Yokohama with a friend who's studying in Japan, I found myself catching up with him about stories from the Philippines when we were inside the bust or train, and I realized I was the only one talking! It wasn't that loud but it creates noise. (I'm really sorry huhu!) To be honest, my commuting pet peeve in Manila is when people are talking to each other when inside the public transportation, then I realize I became THAT person.
You may encounter/come across people talking to himself/herself, but don't freak out. When I took the train alone, I sat beside someone and he started talking to himself, really loud. I was starting to freak out when I sent my brother (he's at work) a message in Viber about it. He told me he encounters such situation very often and told me to stay calm because no one is going to hurt me there.
Tipping is not common in Japan. No need to leave your spare changes after dining. After all, a lot of restaurants in Japan have order systems through machines, like the Ichiran Ramen.
You can find vending machines EVERYWHERE! Even if you are in the middle of a big garden with no such people, like the Sankeien Garden. You can buy both hot and cold drinks there.
Keep left when taking the escalator, and don't walk slow! Japanese people's hustle is a little hard to keep up. Everyone is always in a hurry.
FREQUENTLY ASKED QUESTIONS ABOUT YOKOHAMA
How can Philippine Passport holders apply for a Japan Visa?
I will be writing about it very, very soon!
When is the best time to visit Yokohama?
Yokohama's climate is very nice throughout the year, but since I visited it when the winter started (December), I am recommending it to be the best time to visit Yokohama. Just bring the right clothes because temperature could go as low as 0 degrees Celsius! Around January, it could snow a lot in Yokohama. I remember my brother told me work can even be suspended due to heavy snow (because they have to stop the operation of the subway lines), which means they could play around with snow!
How many days should you explore Yokohama?
As a general rule, I would not recommend going all the way to Japan only to see Yokohama. Sure, Yokohama is a nice city to stay and go around, but if you want to maximize your trip to Japan, I would recommend a major visit to Tokyo and perhaps dedicate 2-3 days to visit Yokohama. A Day Tour is also possible if your schedule does not permit a longer time in Yokohama.
As a not-so-general rule on the other hand, if you are into skipping the usual tourist trails (like me!), I recommend going all the way to Japan to explore Yokohama alone. It will be worth it! I can only say so much in this guide, but trust me, Yokohama is a nice place to stay and explore.
Yokohama Travel Plug Adapter
Just like the Philippines, Yokohama (and most likely the rest of Japan) uses Type A plug adapter.
YOKOHAMA JAPAN TRAVEL GUIDE: Your recommendations are welcome! 🙂
There you have it! I hope this Yokohama Japan travel guide was able to help you with your upcoming trip to Yokohama, Japan. If ever you want to ask more questions, please just slide a DM on my Instagram account (https://instagram.com/wheressherlyn). Also, if ever you think more important details need to be included in ths post, so let me know! In the meantime, happy travels to Yokohama, Japan and please tell me about your experiences there!
USEFUL LONELY PLANET TRAVEL GUIDES ABOUT JAPAN
For more travel articles about Japan, click on the banner below: