This YANGON TRAVEL GUIDE takes you to 14 interesting places to visit in Yangon. This article contains affiliate links which if used, I will earn a small commission without extra costs on your part. Please support! 🙂
If you are visiting Myanmar, Yangon will most likely be your main point of entry since most international flights to and from Myanmar operate in this former capital city. Most tourists would definitely consider going to Bagan and Mandalay, but there is also a bunch of interesting places to visit in Yangon.
I had a short but sweet time in Yangon during my 10-day Myanmar trip. Since there are no direct flights from Manila to Yangon, I had a layover in Singapore where I had a very interesting story. You can explore Myanmar on a very cheap budget compared to other mainland Southeast Asian cities, and I hope it stays that way. Yangon has a city-like chaos similar to Manila or Ho Chi Minh City, but you can sense its uniqueness with how people live their daily lives there.
Before anything else, I would like to share some other articles about Myanmar I have written in the past:
So, without any other further ado, let's proceed to the 14 interesting places to visit in Yangon.
NATIONAL MUSEUM OF MYANMAR (YANGON)
Myanmar was a former British colony, and you will see a lot of British colonial remnants all over the city, mostly from architectural wonders. The National Museum of Myanmar will walk you through the history of Myanmar. If you're a history buff who's interested in getting to know Myanmar's past better, then this is the place for you.
In this museum, you will find important relics and artifacts related to Burmese history, including miniature thrones of ancient kings and an 8-meter Lion throne which was a relic used by the last Burmese King.
MYANMAR GEMS MUSEUM
Myanmar is very rich in natural resources, and the most popular among their natural resources are precious gems and minerals, like jade and sapphire. If you want to know more about it, you can go to Myanmar Gems Museum.
SHWEDAGON PAGODA
Shwedagon Pagoda is considered as the most sacred spot in Myanmar. This temple is 2500 years old and made of precious materials such as 4531 pieces of diamonds. This place is known to be housing a lot of holy relics, including strands of Buddha's hair. Shwedagon pagoda is a perfect spot to view the sunset and the bright lights of the pagoda are very beautiful at nighttime.
SULE PAGODA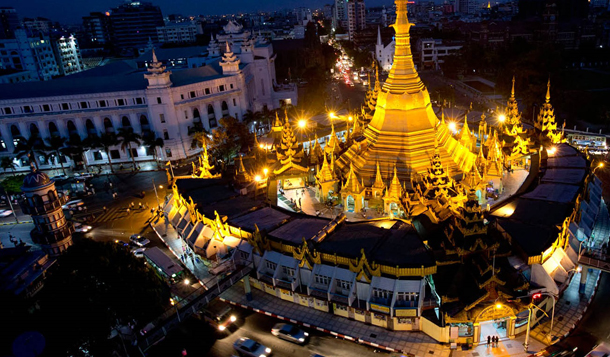 Sule Pagoda is an octagon-shaped pagoda and Sule is a Burmese word which means "meeting", because, as they say, "all roads lead to Sule". Sule Pagoda indeed is located at the heart of Yangon.
YANGON CITY HALL
Yangon City Hall, aside from being the biggest city hall in Myanmar, has a very interesting construction story. They say it was originally meant to possess British/European architectural features, but because the construction of the said building was postponed due to World War I, the aftermath of the war became an opportunity to suggest to incorporate Burmese./Bombay features to the building.
YANGON LITTLE INDIA
If you are looking for an Indian food trip in Yangon, this is obviously the place to be (like the Little India in Singapore).
YANGON CHINATOWN
Also known as Tayoke Tan, Yangon Chinatown is also a good food trip spot in the city.
BOGYOKE AUNG SAN MARKET
Formerly known as Scott's Market, Bogyoke Aung San Market is a busy area where you can find a vast selection of handicrafts, including longyi, or the traditional clothing of Myanmar. Bogyoke Aung San Market is also accessible via the famous Yangon Circular Train.
STRAND HOTEL
Strand Hotel is a popular historical/colonial hotel in Yangon that was built in 1901. This is also a perfect place to have an afternoon tea in Yangon.
CHAUK HTAT GYI BUDDHA TEMPLE
This is also known as the reclining Buddha Temple. You will see a lot of this in different forms around Myanmar and mainland Southeast ASia, including Thailand and Laos.
YANGON CIRCULAR RAILWAY
You can ride and take the entire loop of the Yangon Circular Railway for only USD0.15 which will last for around 30-45 minutes. It was built during the British colonial era which gives access to Metropolitan Yangon district.
KABA AYE PAGODA (WORLD PEACE PAGODA)
World Peace Pagoda is relatively new compared to the other pagodas in Yangon. It was built in 1952 in preparation for the Sixth Buddhist Council. This pagoda is a replica of the Satta Panni Cave in India, where the First Buddhist Council was held.
SWE TAW MYAT PAGODA (TOOTH RELIC PAGODA)
Another relatively new pagoda in Yangon, Tooth relic Pagoda was built from the donations of the Burmese people. It is believed to be housing a tooth relic of Buddha who died 2500 years ago, hence hte name.
INYA LAKE
Inya Lake is the largest lake in Yangon, which is a very popular recreational spot among locals in Yangon.
YANGON TRAVEL GUIDE: Your recommendations are welcome! 🙂
There you have it! I hope you were able to plan your Yangon travel itineraries with this simple guide I provided. If you have any comments or suggestions, please slide a DM on my Instagram account or send me an email. In the meantime, enjoy your sightseeing at Yangon! 🙂
For hotel recommendations in Yangon, Myanmar, click here.
PERSONAL RECOMMENDATION: I stayed at East Hotel Yangon! 🙂