A short walk from Tiong Bahru MTR Station, this 1930s public residence is touted as one of Singapore's most posh neighborhoods thanks to its superb blend of school charm old and the coolness of the new school. Start at the bustling market and hawker center, the beating heart of the neighborhood, before exploring the surrounding streets lined with art deco buildings, independent shops, cafes and art Street.
Bird Singing Corner Mural
Renowned local heritage artist Yip Yew Chong gives viewers a glimpse into Singapore's past with his life-size 3D heritage scenes. Here, four talkative uncles enjoy a cup of kopi (coffee) while listening to their birdsong, a once-popular ritual. Walk up the side alley to discover the Pasar and Fortune Teller mural.
---
Qi Tan Gong (Monkey God Temple)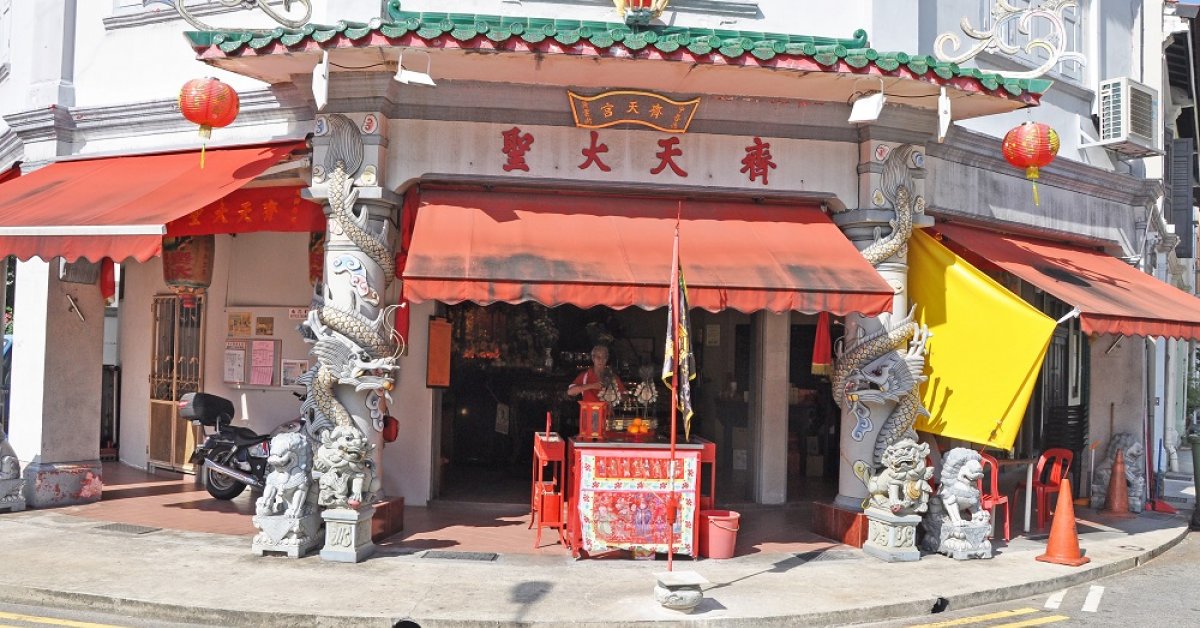 Dedicated to Sun Wu Kong, the Monkey King in the 16th century classic Journey to the West, this temple is said to be the oldest in Singapore dedicated to the Monkey God. Placed on the ground floor of a corner shop, smelling of incense, the entrance pillars are impressively carved with dragons and inside are no less than 10 statues of the Monkey god!
---
Bincho
First impressions aren't always what they seem…otherwise, you might never have discovered this elegant yakitori pub hidden behind Hua Bee, a 75-year-old mee pok (fish noodle soup) restaurant. age. Pass through the service gate into the back car park, then indulge in some of Singapore's best Japanese food – the set menu is your way to go.
---
BooksActually
Literary enthusiasts will be in heaven browsing the titles of this charming independent bookstore. You'll find everything from classics to the work of emerging local authors, poetry to essays, new releases and unprinted gems. Be sure to say hi to the store's three famous cat helpers, and don't miss the back room – it's a treasure trove of knick-knacks and puzzling curiosities.
---
Forty Hands
This hole-in-the-wall cafe is famous as one of the forerunners of Singapore's trendy cafe revolution. They really do serve a great cup of coffee, freshly roasted beans by Common Man Coffee Roasters, but it's a hearty all-day breakfast menu for foodies – bacon and toast French style is the perfect combination of sweet and savory.
---
DEGIOSART
Gallery founder Giuseppe de Giosa's passion for antiques and Asian art is reflected in his perfectly curated art space, which is filled with antiques, paintings, furniture and lighting. light from Asia and around the world. It has also turned to design and fashionistas will be mesmerized by one-of-a-kind vintage textile clothing and accessories created by in-house brand DGA Threads.
---
Loo's Hainanese Curry Rice
Located in Tiong Bahru since 1946, this simple curry rice restaurant is a local favorite. Choose from a variety of prepared dishes, but don't miss the pork chop, wrapped in traditional cream puffs and tender satong (squid) curry. The curry recipe takes three days to prepare, and the queue is definitely worth it.
---