Shimokitazawa is a trendy, bohemian neighborhood located in the western part of Tokyo. It is known for its unique and quirky atmosphere, vintage clothing stores, live music venues, and charming narrow streets.
The neighborhood has a youthful vibe, with many young people living in the area, studying at the local universities, or working in the creative industries. It is a popular destination for students, artists, and musicians, as well as anyone who is interested in the latest fashion and subculture trends.
One of the main attractions of Shimokitazawa is its shopping scene. The neighborhood is home to a plethora of independent boutiques and secondhand shops, selling everything from vintage clothing and accessories to handmade crafts and unique souvenirs. There are also several record stores and bookshops, where visitors can browse through rare and hard-to-find titles.
In addition to its shopping options, Shimokitazawa is also known for its vibrant nightlife. The area has a thriving music scene, with many live music venues showcasing local and international artists. There are also plenty of bars and restaurants where visitors can enjoy a drink and a meal while soaking up the neighborhood's lively atmosphere.
Never Never Land
Never Never Land is a popular bar located in the Shimokitazawa neighborhood of Tokyo. The bar has a fun and quirky atmosphere, with a colorful and eclectic interior that features vintage toys, retro memorabilia, and funky art on the walls.
The bar is known for its extensive selection of drinks, including a wide variety of craft beers, cocktails, and spirits from around the world. The bartenders are skilled and friendly, and they can help visitors choose the perfect drink to suit their tastes.
One of the standout features of Never Never Land is its rooftop terrace, which offers stunning views of the Shimokitazawa neighborhood. The terrace is a great place to relax and enjoy a drink with friends, especially on warm summer evenings.
The bar also hosts regular events, including live music performances and DJ nights, which draw in a diverse and eclectic crowd. It's a great place to meet locals and fellow travelers alike and soak up the vibrant and lively atmosphere of Shimokitazawa.
---
Bear Pond Espresso
Bear Pond Espresso is a popular coffee shop located in the heart of Shimo-Kitazawa, Tokyo. The cafe is known for its exceptional coffee, unique drinks, and cozy atmosphere.
Bear Pond Espresso was founded by American expat and coffee expert Katsu Tanaka, who has been roasting and brewing coffee for over two decades. The shop has gained a cult following among coffee aficionados in Tokyo and beyond, thanks to Tanaka's commitment to quality and innovation.
One of the most popular drinks at Bear Pond Espresso is the "Dirty" – a shot of espresso mixed with a special chocolate syrup and served in a small glass. The drink is rich and indulgent, and a must-try for anyone visiting the cafe.
In addition to the Dirty, Bear Pond Espresso also serves a range of other espresso drinks, as well as drip coffee, iced coffee, and specialty drinks like the "Killer Bee" – a sweet and spicy concoction made with honey and cayenne pepper.
The cafe itself is small and cozy, with a minimalist decor and a relaxed vibe. There are only a few seats inside, so visitors may need to wait for a spot during busy times. However, the friendly staff and delicious coffee make it well worth the wait.
---
Shimo-Kitazawa Three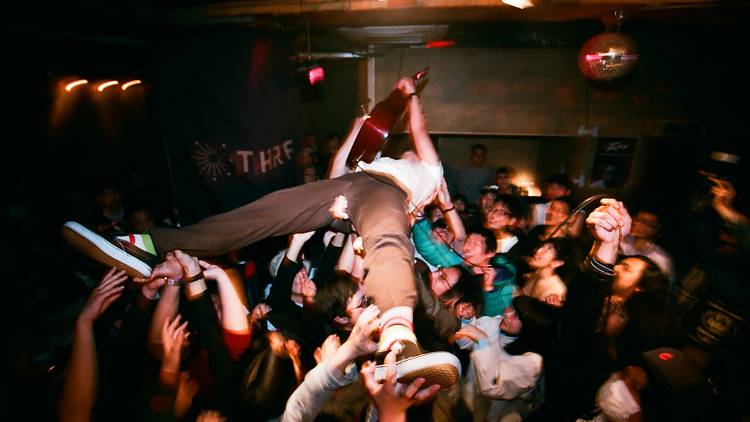 Shimokitazawa THREE is a popular music venue located in the heart of the Shimokitazawa neighborhood in Tokyo. It is a small but intimate space, with a capacity of around 150 people, that offers a unique and intimate live music experience.
The venue is known for showcasing a diverse range of genres, including indie rock, punk, and experimental music. It has hosted many up-and-coming bands and musicians, as well as established acts from Japan and around the world.
The stage at Shimokitazawa THREE is situated in the center of the room, creating a close and interactive environment between the performers and the audience. The venue also features a fully stocked bar serving a variety of alcoholic and non-alcoholic drinks.
One of the things that sets Shimokitazawa THREE apart from other music venues in Tokyo is its commitment to supporting local artists and musicians. It is known for hosting regular events that showcase emerging talent, as well as providing a platform for established artists to try out new material in an intimate and supportive setting.
---
Ghetto
BAR GHETTO 『月灯』is a cozy and atmospheric bar located in the heart of Shimokitazawa, one of Tokyo's trendiest neighborhoods. The bar has a warm and inviting ambiance, with dim lighting, vintage decor, and a relaxed vibe that makes it a popular spot for locals and tourists alike.
One of the highlights of BAR GHETTO 『月灯』is its extensive selection of cocktails and spirits. The bar is known for its creative and inventive cocktails, which are made using high-quality ingredients and expert mixology techniques. Whether you're in the mood for a classic martini, a fruity daiquiri, or a unique house creation, the skilled bartenders at BAR GHETTO 『月灯』can craft the perfect drink for you.
In addition to its impressive drink menu, BAR GHETTO 『月灯』also offers a small but delicious selection of bar snacks and light bites. The menu features Japanese and international flavors, with dishes like crispy fried chicken, charcuterie platters, and savory vegetable tempura.
One of the unique aspects of BAR GHETTO 『月灯』is its dedication to creating a welcoming and inclusive atmosphere. The bar is LGBTQ+ friendly and prides itself on being a safe space for all customers. The staff is friendly and approachable, and the bar's cozy interior makes it a great spot for solo travelers or anyone looking to relax and unwind after a day of exploring the neighborhood.
---
Hiroki
HIROKI is a popular okonomiyaki restaurant located in the Shimokitazawa neighborhood of Tokyo. Okonomiyaki is a savory Japanese pancake made with a variety of ingredients, such as cabbage, meat, seafood, and noodles, and cooked on a hot griddle.
The restaurant is situated on a cozy side street and has a warm and welcoming atmosphere. The interior is decorated with traditional Japanese elements, such as lanterns and wooden tables, creating a homely and relaxed ambiance.
One of the standout features of HIROKI is its customizable okonomiyaki menu. Customers can choose from a variety of toppings and fillings to create their own personalized pancake, or they can opt for one of the restaurant's popular set menus, which include a selection of different toppings and side dishes.
The restaurant also offers a variety of drinks, including sake, beer, and soft drinks, which can be enjoyed alongside the delicious food.
---
Mother
Mother is a popular bar located in the Shimo-Kitazawa neighborhood of Tokyo. It is known for its laid-back atmosphere, delicious cocktails, and friendly staff.
The bar has a cozy, retro-inspired interior, with vintage furnishings and a warm, inviting ambiance. The walls are adorned with artwork and eclectic decorations, giving the space a unique and quirky feel.
One of the main draws of Mother is its impressive selection of cocktails. The bar's talented mixologists are skilled at creating both classic and innovative cocktails, using only the freshest ingredients and highest-quality spirits. Guests can choose from a variety of signature drinks, including the "Mother Mary" (a twist on the classic Bloody Mary) and the "Gin Fizz" (a refreshing mix of gin, lemon juice, sugar, and soda water).
Another highlight of Mother is its friendly and knowledgeable staff. The bartenders are always happy to chat with customers and offer recommendations on drinks and food. The bar also has a small food menu, with items like homemade pickles and cheese plates to complement the cocktails.
---
Shirube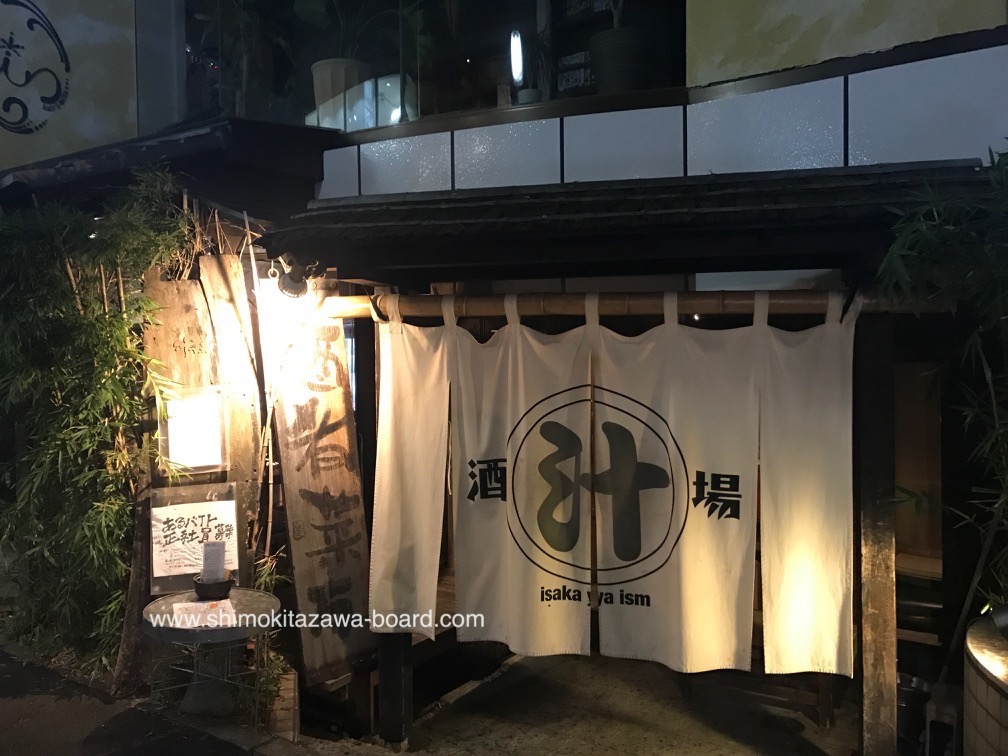 Shirube is a popular izakaya, or Japanese pub, located in the heart of the Shimo-Kitazawa neighborhood in Tokyo. It is known for its cozy atmosphere, delicious food, and extensive sake selection.
The interior of Shirube is rustic and inviting, with wooden furnishings, lanterns, and traditional Japanese decorations. The menu offers a wide variety of classic Japanese dishes, such as yakitori, grilled fish, and tempura, as well as some more unique options like grilled mochi rice cakes and tofu topped with homemade miso sauce.
One of the highlights of Shirube is its extensive sake menu, which features a range of different styles and flavors from all over Japan. The knowledgeable staff are happy to offer recommendations and can help guide visitors through the menu.
In addition to its food and drink offerings, Shirube is also known for its friendly and welcoming atmosphere. The pub is a popular spot for locals and tourists alike, and it's not uncommon to strike up a conversation with fellow diners or the staff.
---