Karlin is a charming and eclectic neighborhood located in the heart of Prague, the capital of the Czech Republic. Situated on the east bank of the Vltava River, Karlin has a rich history and a vibrant, multicultural atmosphere that makes it a must-visit destination for travelers.
Once an industrial area, Karlin has undergone significant urban renewal in recent years, resulting in a mix of old and new architecture that creates a fascinating contrast. Visitors will find everything from elegant Art Nouveau buildings to modern glass-and-steel structures, all set against a backdrop of picturesque cobblestone streets and leafy parks.
One of the most notable features of Karlin is its diverse population, which includes a significant Vietnamese community that has left its mark on the neighborhood with numerous shops and restaurants selling authentic Vietnamese cuisine. Visitors can also explore local boutiques, galleries, and cafes, or take a stroll along the riverbank, which offers stunning views of the city skyline.
Whether you're a history buff, a foodie, or simply looking for a unique cultural experience, Karlin has something to offer. With its blend of old-world charm and modern flair, this dynamic neighborhood is a must-see for anyone traveling to Prague.
There are many reasons why travelers should visit the Karlin neighborhood in Prague during their trip to the Czech Republic. Here are just a few:
Unique Atmosphere: Karlin has a unique multicultural atmosphere that sets it apart from other neighborhoods in Prague. Visitors can explore the vibrant Vietnamese community, or discover the many local shops, galleries, and cafes that give the area its eclectic charm.
Rich History: Despite undergoing significant urban renewal in recent years, Karlin still has plenty of historical landmarks and buildings to explore. The neighborhood was heavily damaged during the floods in 2002, but has been rebuilt and restored since then, creating a fascinating contrast between old and new architecture.
Beautiful Parks and Riverfront: Karlin is home to several beautiful parks and gardens, including the stunning Vitkov Hill Park, which offers panoramic views of the city. Visitors can also take a stroll along the riverfront, which offers picturesque views of the Vltava River and the city skyline.
Delicious Food: As mentioned earlier, Karlin has a significant Vietnamese community, which means that visitors can sample some of the best Vietnamese cuisine in the city. But that's not all – the neighborhood also has a wide variety of local restaurants and cafes serving everything from traditional Czech dishes to international cuisine.
Kasarna Karlin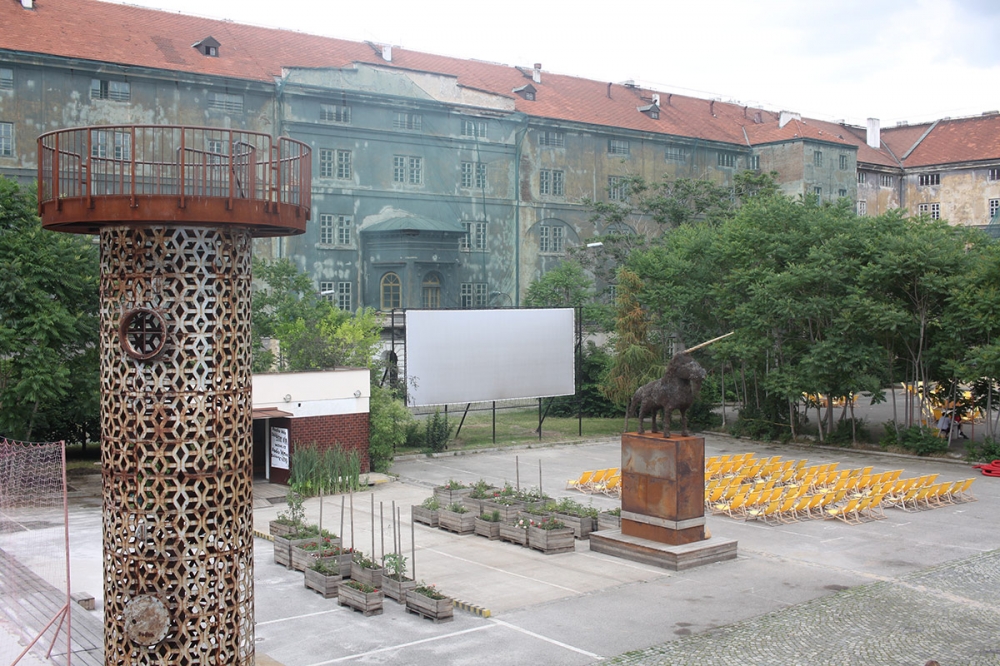 Kasarna Karlin is a vibrant cultural center located in the heart of the Karlin neighborhood in Prague. Housed in a former military barracks, Kasarna Karlin has been transformed into a dynamic space that celebrates the arts, community, and creativity.
Visitors to Kasarna Karlin can explore a wide range of cultural offerings, including live music performances, theater productions, art exhibitions, and film screenings. The center also hosts workshops, lectures, and other events that encourage community engagement and dialogue.
One of the unique features of Kasarna Karlin is its commitment to sustainability and environmental awareness. The center has implemented a range of green initiatives, such as using solar energy and rainwater harvesting, to reduce its carbon footprint and promote eco-friendly practices.
In addition to its cultural and environmental offerings, Kasarna Karlin is also home to a variety of local businesses, including a brewery, a cafe, and a coworking space. Visitors can grab a drink, relax in the courtyard, or get some work done while enjoying the creative and inspiring atmosphere.
Lokal Hamburk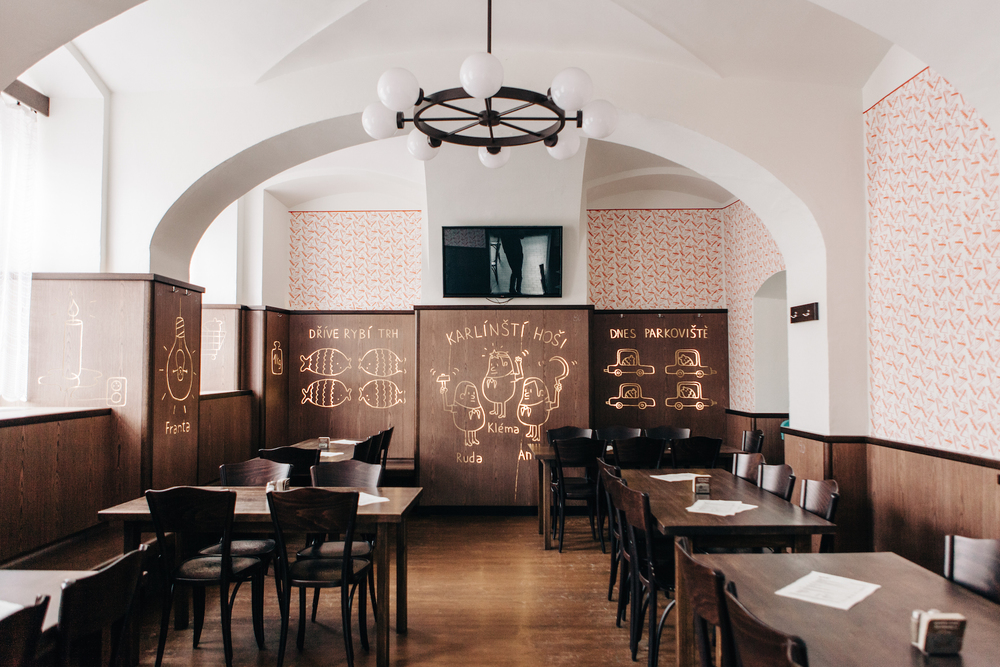 Lokal Hamburk is a popular Czech restaurant located in the heart of the Karlin neighborhood in Prague. The restaurant has a cozy and relaxed atmosphere, with rustic wooden tables and a charming vintage interior that gives it a traditional feel.
The menu at Lokal Hamburk features classic Czech dishes made from fresh, locally sourced ingredients. The restaurant is especially known for its delicious beer, which is brewed on site and served in traditional ceramic mugs.
One of the highlights of Lokal Hamburk is its commitment to sustainability and supporting local farmers and producers. The restaurant has its own garden where it grows many of the vegetables and herbs used in its dishes, and also sources meat and dairy products from nearby farms.
In addition to its delicious food and drink, Lokal Hamburk also has a friendly and welcoming staff who are happy to recommend dishes or answer any questions visitors may have. The restaurant can get quite busy, especially during peak hours, so it's recommended to make a reservation in advance.
Dva Kohouti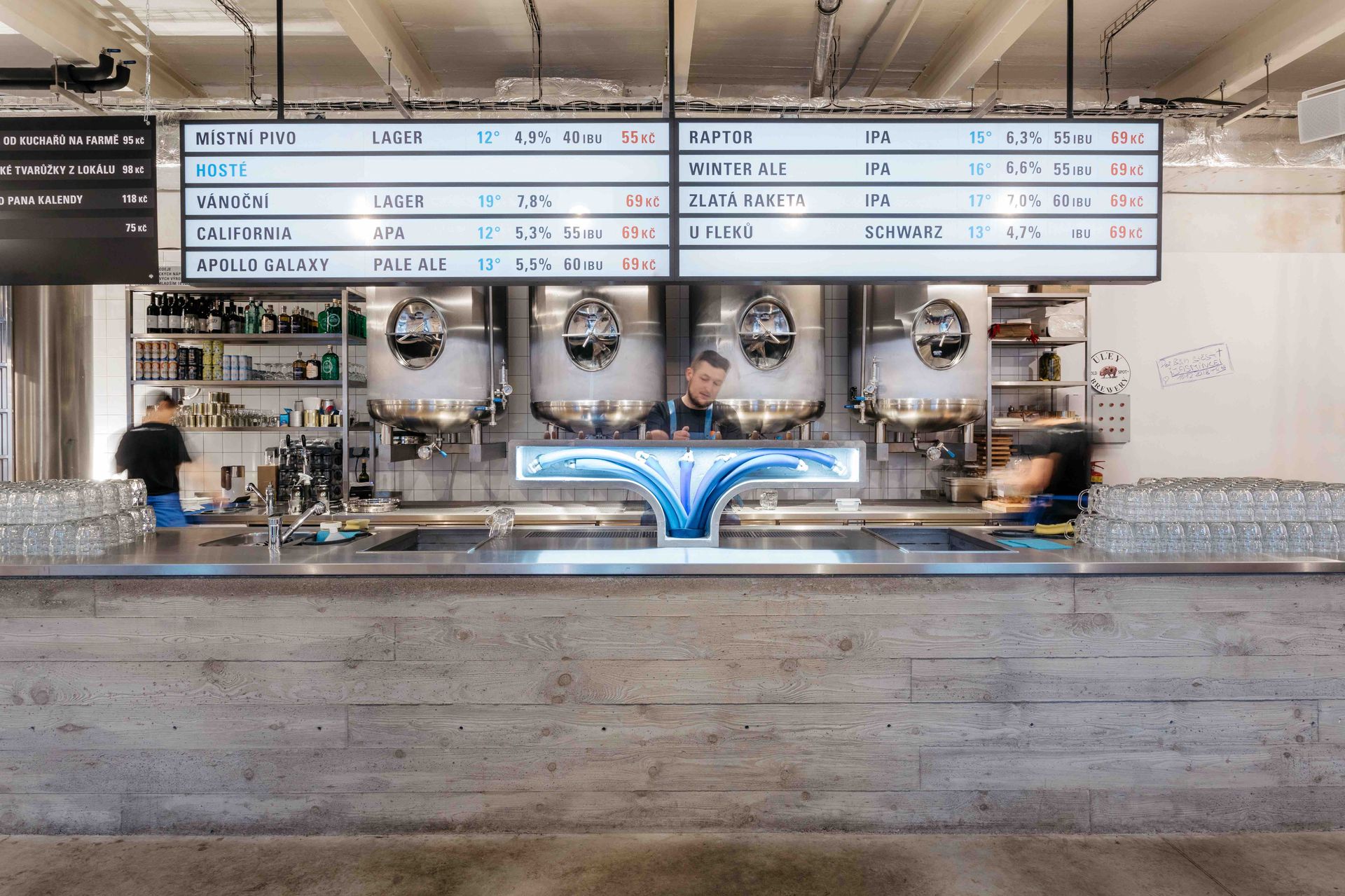 Dva Kohouti is a popular brewery and restaurant located in the heart of the Karlin neighborhood in Prague. As soon as you step inside, you'll be struck by the warm and welcoming atmosphere, with friendly staff and cozy seating areas that make it the perfect spot to relax with a beer and a meal.
The brewery itself is a real highlight, with a wide variety of craft beers on offer, including both classic Czech styles and more experimental brews. If you're a beer lover, you'll definitely want to try one of their tasting flights, which let you sample several different beers at once and get a sense of the brewery's range.
The food at Dva Kohouti is also a real treat, with a menu that combines classic Czech dishes with international flavors and modern twists. Whether you're in the mood for a hearty goulash, a juicy burger, or a fresh salad, you're sure to find something to your taste. The portions are generous, and the quality of the ingredients is top-notch.
What really sets Dva Kohouti apart, though, is the sense of community that it fosters. It's a popular spot with both locals and visitors, and it's not uncommon to strike up a conversation with a friendly stranger over a pint of beer. There are also regular events and activities, from live music to beer tastings to quizzes, that help bring people together and make Dva Kohouti feel like more than just a restaurant.
Muj Salek Kavy
Muj Salek Kavy is a hidden gem in the heart of Prague's Karlin neighborhood, and a must-visit spot for coffee lovers. Tucked away on a quiet side street, this cozy café is a haven of calm in the bustling city.
As soon as you walk in, you'll be struck by the warm and inviting atmosphere. The interior is decorated with vintage furniture, quirky art, and plenty of plants, giving it a relaxed and bohemian feel.
The real star of the show, though, is the coffee. Muj Salek Kavy serves up some of the best coffee in Prague, made from high-quality beans sourced from around the world. Whether you prefer a classic espresso, a rich cappuccino, or something more adventurous, like a turmeric latte or a matcha latte, you'll find it here.
In addition to coffee, Muj Salek Kavy also offers a delicious selection of homemade pastries and cakes, all baked on site using locally-sourced ingredients. You can enjoy your coffee and pastry in the cozy seating area inside, or sit outside and watch the world go by.
But what really sets Muj Salek Kavy apart is the friendly and knowledgeable staff. The baristas are passionate about coffee and are always happy to share their expertise and recommend new blends to try.
Eska
Eska is a must-visit restaurant located in the heart of Karlin neighborhood in Prague. The restaurant is known for its innovative approach to traditional Czech cuisine, using only the freshest, locally sourced ingredients to create dishes that are both creative and delicious.
The restaurant itself is housed in a beautifully restored industrial building, with high ceilings, exposed brick walls, and large windows that flood the space with natural light. The décor is minimalist and modern, with wooden tables and chairs, and an open kitchen that allows diners to watch as their food is prepared.
The menu at Eska is constantly changing, with a focus on seasonal ingredients and inventive flavor combinations. Some of the standout dishes include the house-made breads, which are baked fresh daily and served with a variety of spreads, such as smoked butter and lard with bacon.
Other popular menu items include the roasted duck with beetroot and horseradish, and the roasted pork belly with cabbage and mustard. For dessert, be sure to try the apple strudel with cinnamon ice cream – it's a crowd favorite.
Eska also has a great selection of local beers and wines to pair with your meal, as well as a small bakery and café on the premises where you can pick up some of their delicious breads and pastries to take home.
Veltlin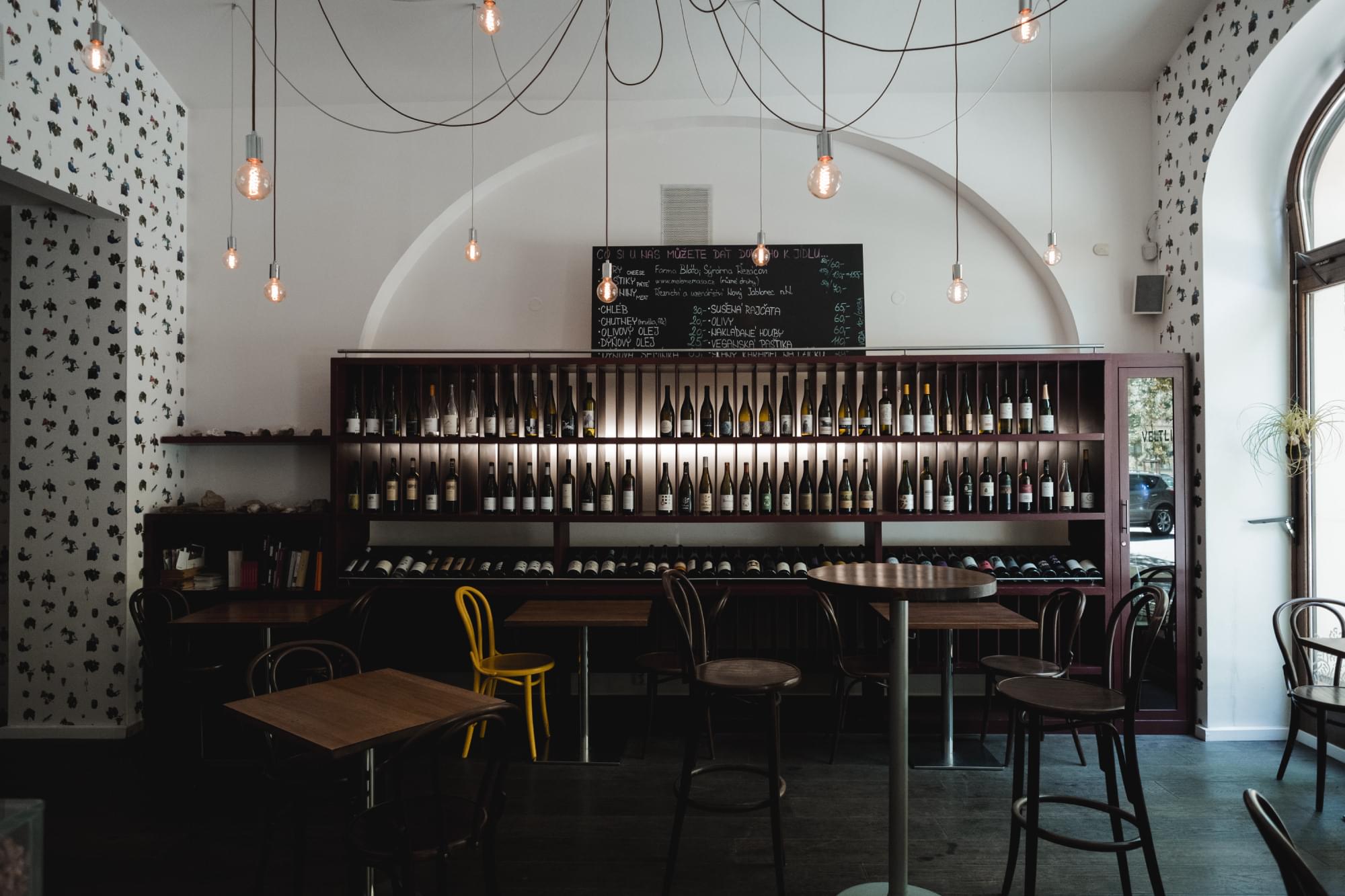 Veltlin is a cozy and welcoming wine bar located in the heart of Karlin, one of Prague's most vibrant and eclectic neighborhoods. With its warm atmosphere and excellent selection of Czech and Slovak wines, Veltlin is a must-visit destination for wine lovers and foodies alike.
The bar itself is small and intimate, with a rustic decor that gives it a charming and authentic feel. The walls are adorned with wine bottles and vintage posters, while the wooden tables and chairs create a cozy and inviting atmosphere. The staff are friendly and knowledgeable, and are always happy to recommend a wine or dish to suit your tastes.
When it comes to the menu, Veltlin offers a wide variety of Czech and Slovak wines, as well as a selection of delicious dishes designed to complement the wines perfectly. Whether you're in the mood for a light snack or a full meal, you'll find plenty of delicious options on the menu, from homemade bread and pâté to hearty stews and casseroles.
One of the standout features of Veltlin is its commitment to using locally sourced and sustainable ingredients, which not only ensures that the dishes are of the highest quality, but also supports the local community and the environment.
Presto Meat Market
Located on Sokolovská Street in the heart of the Karlin neighborhood, Presto Meat Market is a must-visit destination for meat lovers visiting Prague. As soon as you step inside, you'll be greeted by the mouthwatering aroma of fresh meat and spices.
The market is run by a family of skilled butchers who take great pride in their craft. They specialize in premium cuts of meat, including locally-raised beef, pork, and lamb, as well as a variety of exotic meats like ostrich and kangaroo. Whether you're looking for the perfect cut for a special occasion or just want to try something new, the butchers at Presto can help you find exactly what you need.
One of the things that sets Presto apart is their commitment to quality and sustainability. They work directly with local farmers and suppliers to ensure that all of their meat is ethically sourced and of the highest quality. They also use traditional butchery techniques, such as dry aging and hand-cutting, to ensure that each cut of meat is tender and flavorful.
In addition to their meat selection, Presto also offers a variety of other products like homemade sausages, marinades, and spices. And if you're not sure what to choose, the friendly and knowledgeable staff are always happy to offer recommendations and cooking tips.
Avocado Gang
The Avocado Gang is a trendy and stylish cafe that offers a unique and healthy twist on classic brunch dishes. Located in the heart of Karlin, this cozy cafe is a popular spot for locals and visitors alike, thanks to its delicious food and relaxed, welcoming atmosphere.
The cafe's menu is centered around – you guessed it – avocados. From classic avocado toast to more adventurous creations like avocado pancakes or smoothie bowls, the Avocado Gang offers a variety of dishes that are both tasty and nutritious. They also offer a variety of vegan and gluten-free options, making it a great choice for anyone with dietary restrictions.
In addition to its food, the Avocado Gang also has a stylish and cozy interior, with plenty of natural light, plants, and cozy seating. It's the perfect spot for a leisurely brunch or a quick coffee break.