Are you on a trip down south and looking for unusual places to visit? Check out Magdalena Laguna Tourist Spots to satisfy your wanderlust!

Magdalena is a charming municipality located in the province of Laguna, Philippines. Known as the "Vegetable Basket of Laguna," Magdalena boasts an abundance of farms and plantations, making it a popular destination for agritourism. Visitors can explore the town's lush vegetable fields, fruit orchards, and flower gardens, and even participate in farm activities such as harvesting and planting. In addition to its agricultural offerings, Magdalena also offers attractions such as historical landmarks, scenic views, and local delicacies.
A Short History of Magdalena, Laguna
Magdalena is a third-class municipality located in the province of Laguna, Philippines. It is situated at the eastern part of the province and is bounded by the municipalities of Majayjay to the south, Luisiana to the east, and Liliw to the north.
The town of Magdalena was founded in 1605 by Franciscan friars who named it after Mary Magdalene, a biblical figure. During the Spanish colonial era, Magdalena was a small pueblo or settlement, and its residents were mostly farmers who cultivated rice, sugarcane, and other crops.
In 1850, Magdalena became an independent town, separating from the nearby town of Liliw. During the Philippine Revolution against Spain, Magdalena played a significant role as it served as a refuge for revolutionary forces. The town was also one of the first to join the Katipunan, a secret society that fought for the country's independence.
During World War II, Magdalena was occupied by the Japanese, and many of its residents were killed or forced to work as laborers. The town was liberated by American and Filipino forces in 1945.
Today, Magdalena is a bustling town with a growing economy. It is known for its agricultural products, particularly its sweet lanzones fruit. The town also celebrates the annual Lanzones Festival, which showcases the town's culture, history, and products.
So without further ado, listed below are some of the "hidden gems" you can visit during your trip to Magdalena, Laguna:
SEE ALSO:
Calamba, Laguna Tourist Spots
St. Mary Magdalene Parish Church
This beautiful parish church was one of the remnants of the Spanish Colonial Period in the Philippines, hence the architectural features. It was named after their patron saint, St. Mary Magdalene, the heroin of love. This is obviously where the town got its name.

The whole structure of the church might look like any other stone-built Spanish colonial church in other parts of the Philippines, but Magdalena Church has its own unique type of charm. The bell tower looks magnificent, and climbing up here is worth experiencing.
Check out these other blogs about Magdalena Laguna Pilgrimage Experience by Bluedreamer, Tita S Travels, and Joey in Wanderland.
Magdalena Municipal Hall
The facade of Magdalena Municipal hall signifies how elegant the structures way back in time and it also signifies how Magdalena was able to preserve the building's original beauty, when most municipal and city halls have been replacing their buildings with modern ones.
Bahay Laguna
Bahay Laguna is a museum in Magdalena which houses memorabilias belonging to former Governor Felicisimo T. San Luis, who was also known as "The Living Legend of Laguna".
Emilio Jacinto Shrine
Located inside the Magdalena Church, this shrine houses the bloodstained bolo and hat of General Emilio Jacinto when he fought the Battle of Maimpis.
Kawayan Festival
The bamboo industry has a big contribution to the livelihood and local economy of Magdalena, hence the town celebrates the annual Kawayan Festival.
Magdalena Park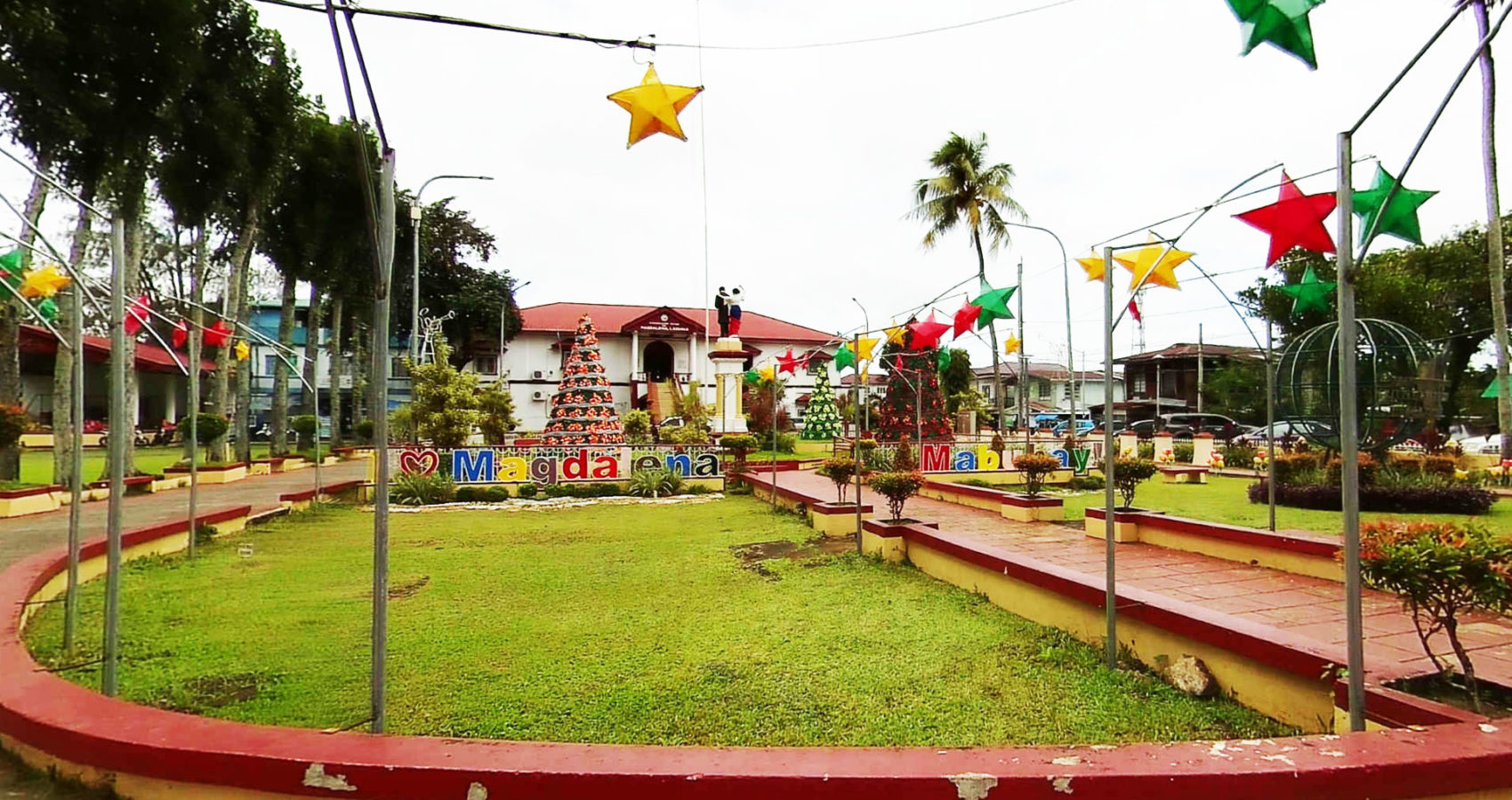 In Magdalena Park, you will find the "Walk of Fame" and the Marvel Heroes Statue, because this part of the province is also known as "The Little Hollywood of Laguna" because of its role in the film industry.
Jose Rizal and Emilio Jacinto Statues
Just right by the Magdalena Church, you will see a statue honoring Emilio Jacinto and another statue honoring the National Hero of the Philippines who is a native of Calamba, Laguna, Jose Rizal.
Tulay Agarao
Agarao Bridge connects one part of the town to another separated by the Balanac River. It looks like a typical suspension bridge that you can find in other provinces, but this one provides a nice view of the Balanac River. It just needs to be repaired, though.
White Water River Rafting
The Balanac River has currents that are perfect for river rafting, and in fact, the river rafting activity in Magdalena is gaining popularity among tourists from outside the town. The river rafting activity will be a fun 3-kilometer experience.
Check out this Magdalena Rafting, Water Tubing, and Cliff Diving Blog by Perhaps Melisa!
Balanac River Irrigation Dam
This irrigation dam has been a popular diving site for adventurous locals in Magdalena. Most of the time you will find boys having fun at this place.
Kart for Rent
There are Mario Kart-type rides which you can rent for Php20 per hour to drive around the premises of the municipal hall.
Tulip Garden
At the end of the day, you can choose to relax by this part of Magdalena Park where beautiful artificial flowers are lit.
MAGDALENA LAGUNA TOURIST SPOTS: Your recommendations are welcome! 🙂
There you have it! Please let me know if I have to add something to add to this list of Magdalena Laguna tourist spots by sending me an email. Happy travels to Magdalena and enjoy!
HOW TO GET TO MAGDALENA, LAGUNA
There are several ways to commute from Manila to Magdalena, Laguna, depending on your preference and budget. Here are some of the most common options:
Bus: Take a bus bound for Sta. Cruz, Laguna (e.g., HM Transport, DLTB Co., Jac Liner) from Buendia or Cubao bus terminals in Manila. From Sta. Cruz, you can ride a jeepney or a tricycle to Magdalena.
Van: Look for vans bound for Magdalena in Kamias, Quezon City or in the Alabang South Station Terminal in Muntinlupa. The travel time is usually faster than taking a bus.
Private car: You can drive your own car or rent a car and take the South Luzon Expressway (SLEX) until you reach Calamba Exit. From there, take the provincial road leading to Magdalena.
Taxi/Grab/Uber: You can also take a taxi or book a ride using Grab or Uber, but this option may be more expensive than taking a bus or a van.
It is advisable to check the latest travel guidelines and protocols before heading to Magdalena, as the situation may change depending on the pandemic situation.
WHERE TO STAY IN LAGUNA, PHILIPPINES
You can check available accommodations in Laguna via agoda.com
SIDE TRIPS IN LAGUNA, PHILIPPINES
Afte your trip to Magdalena, you can consider going to Hidden Valley Springs in Calauan or to the majestic Pagsanjan Falls.