Traveling to different cities have different costs (some cities are expensive to travel to, but in some cities you can stay for a longer time at only cheap cost). However, one thing is for sure: the rise of hostels have made travel more affordable, which you can stay for as low as $5 per night! Younger travelers who are more after the adventure are literally just looking for a place to sleep, so they will be fine with bunk beds with other backpackers around. But hostels offer more than just that — they are places for socialization and to snap that Instagram-worthy photos!
So without further ado, here are some Instagrammable hostels that can be found in Southeast Asia! You are welcome to book any of these through the links I provide via agoda.com. I am a verified Agoda affiliate where I earn commissions from your bookings with no additional costs on your part, at all! 🙂
But before anything else, you can check other best hostel recommendations in other countries/cities: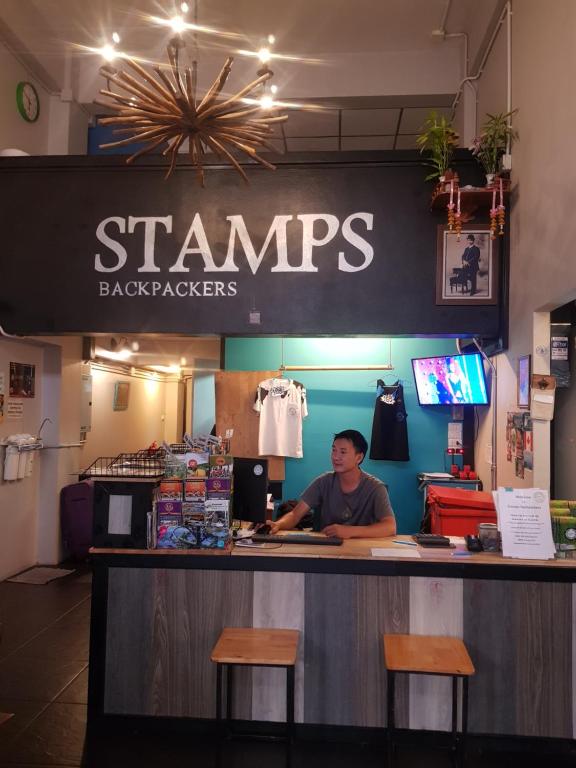 Nestled amidst the lush landscapes and vibrant streets, this delightful hostel offers an unforgettable experience for adventurous travelers seeking both comfort and excitement.
Located in the heart of Chiang Mai's Old City, Stamps Backpackers greets you with its inviting and laid-back atmosphere. The hostel boasts a unique blend of contemporary design and traditional Thai elements, creating a captivating ambiance that immediately puts you at ease.
Accommodation here is both cozy and budget-friendly, providing a variety of dormitory and private room options. Each space is thoughtfully designed to ensure a good night's sleep after a day full of exploration.
What sets Stamps Backpackers apart is their passion for immersive travel experiences. They offer an array of guided tours and activities that cater to different interests. Whether you're an adrenaline junkie looking to conquer the jungle on a thrilling trek, a culture enthusiast eager to explore ancient temples and bustling markets, or simply seeking serene moments in nature, their tour packages have got you covered.
The hostel's communal areas serve as a hub for socializing with fellow travelers. Share stories and experiences in the vibrant common room, chill out in the lush garden, or savor mouthwatering Thai delicacies at the on-site café. Oh, and did we mention the complimentary breakfast that fuels you up for your daily adventures?
The friendly and knowledgeable staff at Stamps Backpackers are the icing on the cake. Always ready to assist with travel tips, local insights, and a warm smile, they make your stay truly exceptional.
---
This idyllic budget accommodation offers travelers an unforgettable retreat that seamlessly blends tranquility with a vibrant communal atmosphere.
Located in the heart of Bali's cultural hub, The Farm Hostel immerses guests in the island's rich heritage and natural beauty. Wake up to the symphony of chirping birds and the gentle rustle of palm leaves, as you open your eyes to breathtaking sunrise views over the emerald paddies.
The hostel's design harmoniously fuses traditional Balinese architecture with modern comforts. Thatched-roof bungalows and cozy bamboo dormitories provide comfortable lodging options, ensuring a good night's sleep after a day of exploration.
The Farm Hostel is more than just a place to rest your head – it's a vibrant social hub. The open-air communal areas create an inviting space for travelers from all corners of the globe to connect, share stories, and forge new friendships. Swing in a hammock under swaying coconut palms, sip on fresh tropical fruit juices at the hostel's café, or join in one of the communal dinners featuring mouthwatering Indonesian delicacies.
For those seeking adventure, the hostel offers exciting activities such as guided hikes through terraced rice fields, traditional Balinese cooking classes, and thrilling bike tours to nearby waterfalls.
---
This enchanting homestay offers travelers a unique and immersive experience, allowing them to indulge in the local culture and bask in the breathtaking beauty of the surrounding countryside.
The Circle Vietnam Homestay exudes warmth and hospitality, making guests feel like part of the family from the moment they arrive. The cozy and traditional wooden architecture blends harmoniously with the lush greenery, creating a tranquil oasis for relaxation and rejuvenation.
Each room is thoughtfully designed with a touch of rustic elegance and equipped with modern amenities to ensure utmost comfort. Wake up to the soothing sounds of nature and savor a delicious homemade breakfast prepared with love by the friendly hosts.
What sets The Circle Vietnam Homestay apart is its commitment to offering a range of enriching activities. Guests can embark on guided treks through scenic trails, explore nearby waterfalls, or partake in a hands-on cooking class to learn the secrets of authentic Vietnamese cuisine.
In the evenings, gather around a crackling bonfire under the starlit sky and share stories with fellow travelers, fostering unforgettable memories and friendships. For those seeking inner peace, there are opportunities for meditation and yoga amidst the idyllic surroundings.
The Circle Vietnam Homestay not only provides an escape from the hustle and bustle of city life but also embraces responsible tourism practices, supporting local communities and preserving the region's natural wonders.
---
Nestled amidst the bustling cityscape, this innovative hotel offers a one-of-a-kind experience that blends modernity with sustainability.
True to its name, the Container Hotel is ingeniously constructed from repurposed shipping containers, lending a chic industrial vibe to the property. Each container has been tastefully transformed into cozy and comfortable living spaces, exuding a minimalist charm that appeals to both the eco-conscious traveler and the design enthusiast.
Upon arrival, guests are greeted by a vibrant and welcoming ambiance, showcasing the hotel's commitment to art and creativity. The lobby doubles as an art gallery, adorned with captivating local artwork and installations, setting the tone for a culturally immersive stay.
The rooms are cleverly designed to optimize space while maintaining utmost comfort. From intimate private pods to family-sized suites, the Container Hotel caters to various travel preferences, ensuring every guest enjoys a memorable and personalized stay. Crisp linens, modern amenities, and thoughtful touches complete the experience, ensuring a restful night's sleep after exploring the city's attractions.
One of the hotel's highlights is its inviting rooftop terrace, offering panoramic views of Kuala Lumpur's iconic skyline. As the sun sets, the terrace transforms into a lively social hub where travelers from all corners of the globe can mingle, exchange stories, and create unforgettable memories.
Nestled within the lively Bukit Bintang district, guests are within walking distance of an array of shopping, dining, and entertainment options. The nearby Jalan Alor food street entices visitors with a kaleidoscope of local delicacies, immersing them in Malaysia's diverse culinary scene.
---
This charming homestay is the epitome of tranquility and traditional Vietnamese hospitality, offering an unforgettable experience for every traveler.
Located just a short stroll away from the bustling Ancient Town, Under The Coconut Tree Homestay is perfectly situated for those seeking both convenience and serenity. As you step onto the property, you'll find yourself surrounded by lush gardens and, of course, towering coconut trees that lend the place its name, creating an oasis of calm in this bustling town.
The homestay boasts a unique blend of traditional architecture and modern comforts, with elegantly designed rooms that exude a warm and cozy ambiance. The friendly hosts warmly welcome guests and are always eager to share local insights, ensuring you get the most out of your stay in Hoi An.
Start your mornings with a hearty breakfast that showcases the diverse flavors of Vietnamese cuisine, setting you up for a day of exploration and adventure. Whether you're interested in exploring the historical sites of Hoi An, lounging on nearby An Bang Beach, or simply wandering the quaint streets, the homestay's central location makes it easy to access all the treasures of the area.
After a day of sightseeing, relax by the inviting pool or indulge in a traditional Vietnamese massage, pampering yourself in the calming ambiance. As the sun sets, take a leisurely stroll along the Thu Bon River, basking in the romantic glow of lantern-lit streets, a signature scene of Hoi An.
Under The Coconut Tree Homestay offers an immersive cultural experience, with the hosts often organizing cooking classes, lantern-making workshops, and bicycle tours to explore the verdant countryside and rice paddies.
---
Far from your typical accommodation, this quirky and inspiring hostel offers much more than just a place to rest your head.
Located in the eclectic neighborhood of Charan Sanitwong, The Overstay Art Hostel welcomes travelers from around the world into its creative haven. From the moment you step inside, you'll be immersed in an atmosphere that celebrates the artistic spirit. Every nook and cranny is adorned with colorful murals, graffiti, and captivating artwork that reflects the soul of Bangkok's thriving art scene.
The hostel's dormitory rooms are more than just places to sleep; they are spaces designed to ignite your creativity and curiosity. Each room is uniquely themed, featuring distinct art styles and cultural elements, creating an ambiance that complements the essence of this vibrant city.
One of the highlights of The Overstay is its vibrant community of like-minded travelers and artists. Whether you're a seasoned artist or someone eager to explore your creative side, this hostel provides the perfect platform to connect with fellow guests who share a passion for art, music, and culture. The communal spaces buzz with energy as travelers exchange stories, collaborate on projects, or simply unwind and enjoy the company of newfound friends.
The Overstay Art Hostel's calendar is brimming with events and activities that promise an unforgettable stay. Attend workshops on traditional Thai crafts, join interactive art sessions, or indulge in lively jam sessions and performances that showcase the talents of both guests and local artists. The hostel also hosts regular art exhibitions, showcasing emerging artists and their works, providing a dynamic platform for creative expression.
Beyond the captivating art-centric experience, The Overstay boasts a central location that makes exploring Bangkok a breeze. Just a short tuk-tuk ride away, you'll find yourself at some of the city's most iconic landmarks, bustling markets, and authentic street food stalls.
---
This one-of-a-kind accommodation offers travelers a unique and immersive experience like no other.
Nestled amidst lush greenery and just a stone's throw away from the azure waters of Nha Trang beach, Ccasa Hostel stands out with its innovative design that seamlessly blends modernity and tradition. The hostel's architecture draws inspiration from traditional Vietnamese communal houses, exuding a sense of cultural authenticity that immediately captivates the senses.
As you step inside, you'll be greeted by warm and friendly staff eager to make your stay unforgettable. The atmosphere here is laid-back and welcoming, perfect for both solo adventurers and groups looking to forge new friendships and memories.
Ccasa Hostel boasts a variety of accommodation options to suit different preferences, from cozy dormitories for budget travelers to private rooms for those seeking extra privacy. Whichever you choose, you're in for a comfortable and relaxing stay.
One of the highlights of Ccasa Hostel is its enchanting outdoor space. The lush garden and tranquil courtyard provide an ideal oasis to unwind, read a book, or simply soak up the tropical sunshine. In the evenings, the atmosphere becomes magical as soft fairy lights twinkle above, creating a dreamy ambiance for social gatherings and storytelling.
If you're a food enthusiast, Ccasa Hostel will not disappoint. Their on-site restaurant serves up a delectable array of Vietnamese delicacies and international dishes, catering to all taste buds. Don't miss out on the chance to savor authentic local flavors right at your doorstep!
Beyond its stunning aesthetics and scrumptious food, Ccasa Hostel offers a range of activities to make your stay in Nha Trang truly unforgettable. From water sports and beach excursions to cultural tours and cooking classes, there's something for everyone to explore and enjoy.
---
Nestled in the bustling and dynamic neighborhood of Sukhumvit, Express Hostel offers budget-savvy travelers the perfect base to explore the enchanting city. Just a stone's throw away from major attractions and public transportation hubs, this hostel's prime location makes it a top choice for globetrotters.
The moment you step into Express Hostel, you'll be greeted by a warm and friendly atmosphere that's sure to make you feel welcome. The cheerful and knowledgeable staff are always eager to help you with any travel inquiries and insider tips on the best local experiences.
Accommodation options range from dormitory-style rooms to private cozy nooks, all thoughtfully designed with comfort and convenience in mind. The hostel's clean and well-maintained facilities ensure a pleasant stay, and the modern amenities cater to the needs of today's digital nomads, offering high-speed Wi-Fi and plenty of charging stations.
Express Hostel fosters a vibrant social scene, perfect for meeting fellow adventurers from around the world. The communal areas, like the lively rooftop terrace or the communal kitchen, are excellent spots to share travel stories or simply unwind after a day of exploration.
Food enthusiasts will be delighted by the abundance of nearby dining options, from savoring authentic Thai street food to exploring international cuisine. And for those seeking nightlife, the hostel's surroundings boast an array of bars and clubs to dance the night away.
---
Situated in the heart of the vibrant Sukhumvit district, this charming hostel offers an unforgettable and budget-friendly stay for travelers from all walks of life.
Upon arrival, you'll be greeted with warm hospitality and a laid-back atmosphere that immediately sets the tone for a relaxed and enjoyable stay. The hostel's modern and stylish decor seamlessly blends with traditional Thai elements, providing a unique and culturally enriching experience.
Accommodation options cater to various needs, ranging from cozy dormitories for budget-conscious backpackers to private rooms for those seeking a bit more privacy. All spaces are thoughtfully designed and equipped with modern amenities to ensure a comfortable and rejuvenating stay.
LaMurr Sukhumvit Hostel boasts a vibrant social scene, encouraging guests to mingle and forge new friendships in its communal spaces. The common area is a hub of excitement, featuring a lively bar, where travelers from around the globe come together to share stories and create lasting memories.
Beyond the walls of the hostel, Bangkok's dazzling attractions await just a stone's throw away. The hostel's prime location offers easy access to the city's bustling markets, vibrant nightlife, and tantalizing street food, ensuring that you can immerse yourself in the rich Thai culture effortlessly.
---
There you have it! These hostels do not only provide basic but comfortable places to sleep, but also corners to snap that Instagrammable shot to be shared to your social media followers! A vacation does not only involve seeing different spots in a place, but also having a wonderful experience in the place that you checked in, whether it is a hotel or a hostel.
INSTAGRAMMABLE HOSTELS IN SOUTHEAST ASIA: YOUR RECOMMENDATIONS ARE WELCOME! 🙂
Do you think there are other hostels that I missed including on this list? I know there are a lot of Instagrammable hostels in Southeast Asia, but let's see if we could include more on this list. If so, please feel free to send. mean email at sherlynmaehernandez@gmail.com. In the meantime, I hope you have a safe and Instagrammable travel experience here in Southeast Asia, and let me know if you happen to pass by or stay in Manila! 🙂